The Story of How Shelby Lost 67lbs at DSC!
Before DSC, a typical workout for me was generally heading to a box gym, walking on the treadmill for half an hour, getting bored and heading home.
I didn't really know what I was doing and didn't know how to use most of the equipment or machines they had.
I found out about DSC from a few family members that had been going for a while and their progress was remarkable so I figured it couldn't hurt to try it out.
I was hoping in joining DSC that I would lose weight, feel better about myself, gain more of an insight as to how to work out, and also maybe to make some friends along the way.
I had a lot of fears about joining though.
I was afraid this was just going to be another gym where I started and stopped going after a few weeks.
I was afraid I didn't have the strength and wouldn't be able to keep up with everyone else.
Before my first class, walking to the door, I was absolutely terrified.
It seems silly now but I almost didn't go in... I almost got back in my car and went back home!
I met with all of the coaches and immediately my worries seemed to subside; they were all so willing to help and so friendly.
But the first class was definitely a challenge for me, I was clearly out of shape and it was hard work to say the least.
The great thing was that the coaches gave instructions on how to do something but then they also gave a modified version for anyone with injuries or struggling with anything.
My overall experience has truly been amazing.
I love coming to the gym! It doesn't feel like a chore, I actually really enjoy the time I spend there which I never thought would happen at a gym!
The trainers are so helpful and upbeat. They push you to be better but in such a positive, supportive way. There are things I can do now that I never in a million years thought I would be able to do.
The results speak for themselves, it's hard work but it WORKS.
I have lost a total of 67 pounds!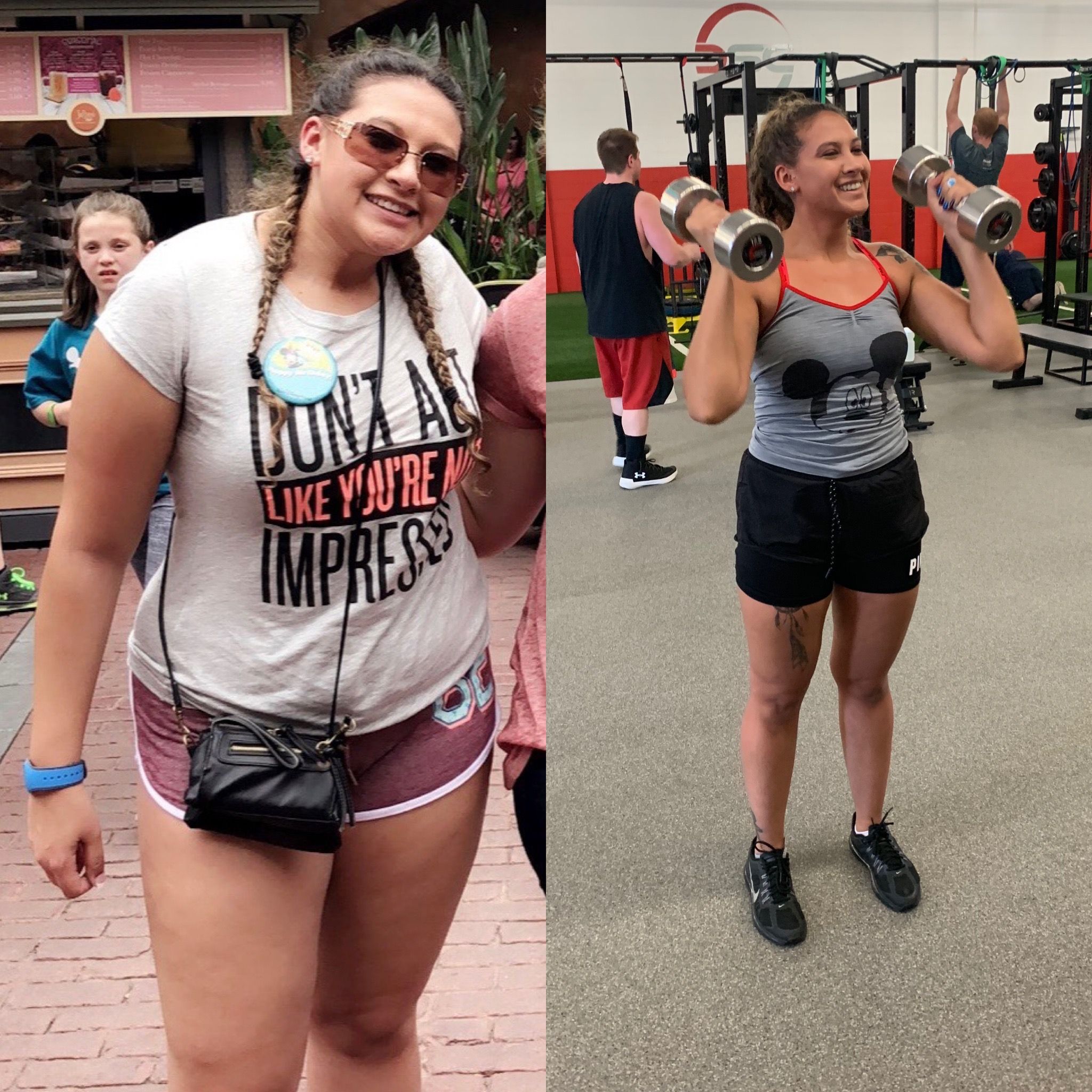 I went from wearing a large in shirts to now a small.
My wardrobe is slowly but surely being replaced because none of my jeans fit anymore since I have gone from a size 14 down to a size 8.
I feel amazing and full of energy!
I started at DSC not being able to do a lot of things well like squats or lunges which I can do now confidently. I had started with an 8 pound kettlebell and now am up to a 20-24 pound kettlebell depending on the exercise.
I feel strong and very proud!
The coaches at DSC make you feel as though your success is their success and it is their main goal to see you succeed and to see you do well.
All they want is for you to achieve your goals, and to make goals you didn't even know you had then reach those too!
My favorite part of the workouts are all of the different stations and that everything is different from day to day. It never gets boring as you're not doing the same thing the whole class or one day to another like other gyms.
Advice I would give to anyone thinking of joining is to just do it. It doesn't matter where you are in your fitness journey, if you think that you can't do it or you think that you'd be uncomfortable, I promise that will all change after joining and seeing what it is all about.
This gym feels like a really great family. I am happy to go and am always having fun while I'm there. The amount of love and support that comes from the trainers and other members is truly amazing.
Dynamic has really changed my life.
- Shelby