How Tracy Lost 40lbs From Home!
Before DSC, and pre-Covid, I belonged to planet fitness. I restarted there in January and went pretty consistently through March when the lockdown hit.
Although I was going 4-5 times a week, I wasn't seeing any results. I really only did the treadmill and elliptical, and a select few of the machines.
I just didn't really know what to do and didn't have much guidance.
Looking for direction, motivation and results, I joined DSC STRONG Online Fitness Program in May when I was on Facebook and one of the programs came up in my feed.
By that time, we were a couple months into quarantine, and the 10lbs I had lost at the beginning of the year were back. I was just ready to do something, and I had all the time in the world and couldn't make up any more excuses.
It was time for a change and I was sick of being out of shape. Plus I loved how I could do it all right from my home!
Before starting with DSC STRONG Online Fitness Program I was feeling pretty gross. I was overweight (obese by the BMI standards), none of my clothes fit, and I just didn't feel good. Being in quarantine didn't help and it was like the winter blues just wouldn't go away.
In joining, I didn't really have any concerns. Since it was online, I didn't have to worry about being able to keep up with anyone and knew I could go at my own pace. Several years ago I did the T25 home workouts, but they were the same videos over and over, and I quickly grew bored of them. I also didn't see the results I was hoping for.
My experience with DSC's online workouts has been completely positive. I absolutely love them!
When I first started, I was modifying the modified version. I could barely do 1 burpee from the floor. I knew I couldn't quit, so again, I modified and made it work for me. Fast forward today, almost my entire workout is the advanced version.
I started slow with the DSC STRONG workouts and did about 3 workouts a week. Some weeks I did more, but never less.
Nowadays, I do between 6-7 and have made them part of my daily routine.
I think the coaches are great! I like that each exercise is explained, and even during the circuit the little reminders and coaching help keep me going and motivate me. I also appreciate the videos they post on proper form of various exercises.
Since joining I've lost 40lbs!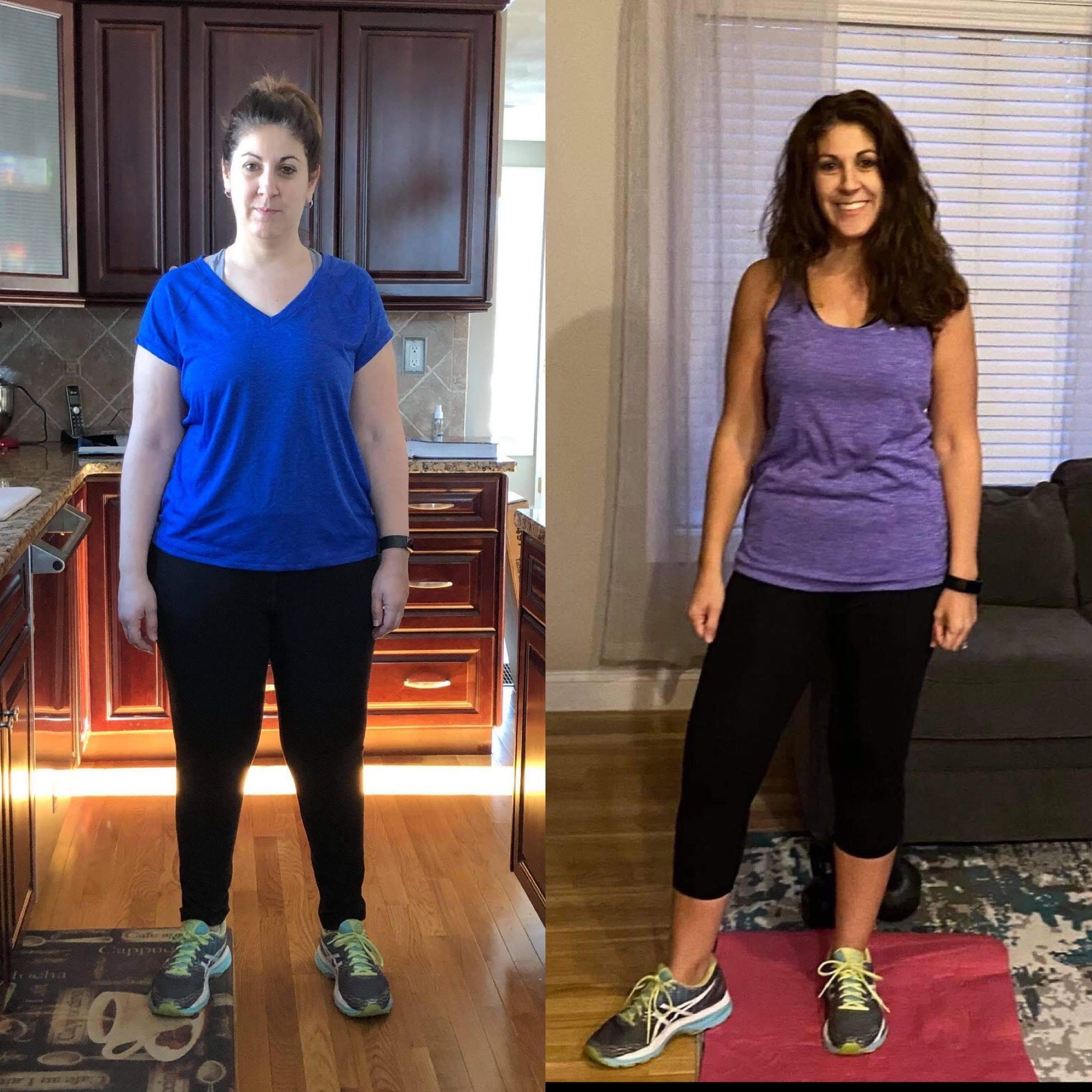 I'm now at the top of my healthy weight range so I still have more to do, but I'm well on my way.
I went down at least 4 pants sizes and because of the healthy habits I've developed, my thyroid medication has been reduced.
I feel so much better overall and I have more confidence!
The workouts are tough, but for that one hour, I don't have to think about anything else, and it's just my time for me.
My favorite parts of the online program are that I can do them anytime that fits my schedule, and I don't have to leave the house to do it. I work full time, have a husband and 2 kids. My husband always leaves the house before 6am so going to the gym in the morning was never really an option. I would get home from work, make dinner, and then cart the kids to and from their sports, at least 4-5 days a week.
The convenience of this program is what works best for me and my schedule, and the fact that the workouts are different all the time so it keeps it from getting boring.
Things that have kept me motivated and consistent are seeing and feeling the results. I've made the workouts an important part of my daily routine.
I like to do my workouts first thing in the morning before the kids get up. That way, I don't have to worry about when to fit it in, and something possibly coming up to keep me from it. It's a great start to the day and really sets the tone.
My advice for someone thinking of joining is to not give up, and make your health a priority.
No excuses. It works! You just have to be patient and put in the time and effort. There are very few things we can control in life, but how we treat our bodies is one of them.
- Tracy
Ready to get started feeling your best?
Join DSC in November and your first month is FREE!
This is available for our DSC STRONG Online Fitness Program or our in-person classes.
Click below to get started and take back your health!