How One Couple Lost 60lbs At DSC!
Meet Angela and RJ, who have lost a total of 60lbs since joining DSC!
Today we asked them about their fitness and health before joining DSC, how they felt coming in for their first class, their overall experience with our coaches and classes, and their incredible results.
Enjoy!
Before joining DSC, what did a typical workout look like for you?
Angela: Before DSC I tried many different types of workouts, and I was a member of several different gyms. None of them really stuck. For quite a while before DSC, I wasn't working out at all.
RJ: Before joining DSC I was trying to motivate myself to go to the gym and using the elliptical in the unlikely event I actually made it. This inconsistency led to me being the most out of shape I've been in over a decade.
How did you feel physically/mentally before joining?
Angela: Physically, before joining, I was experiencing a lot of pain in my joints and back, and I was also tired most of the time. Mentally, I was not happy with the way I looked at all. After having my two children, I had gained some extra weight, and I didn't feel like I had the time or energy to get rid of it.
RJ: I felt like a fat lump. I had gained some significant weight. As a result, I had developed sleep apnea and didn't have the energy I used to have. All my clothes were now tight on me and I was ready for a change!
What goals were you hoping joining DSC would help you reach?
Angela: I was hoping that DSC would help me to lose weight and jumpstart a more healthy lifestyle.
RJ: My goal was that I needed to lose weight. I also wanted to get stronger.
Did you have any fears about joining?
Angela: Yes. I did not want to join at first. I hate trying new things. RJ pestered me until I agreed to try it. At first I would only do the Women's Group, because I was afraid to do the Co-ed Group. Now, I do the Co-ed Group and it's no big deal!
RJ: No. In fact the first couple of times that I went I realized I was completely out of shape and had a lot of work to do to get back into shape. That activated my competitive personality and motivated me to do better and commit.
How did you feel coming in before your first class? How did your first class go?
Angela: I was very anxious before the first class. As I said previously, I hate trying new things. The first class went well, though. I enjoyed it! The instructors were super helpful and the workout was diverse and challenging but not unmanageable.
RJ: I was ready. Very motivated!
I had never been to something like DSC before so it was very new, but nothing else had worked and I didn't feel like I had much to lose by giving it a shot. I was so ready I overdid it in class even though the coaches take really good care of new people and kept telling me to pull it back a bit. I'd recommend new people follow the direction of the coaches. They know their stuff and the results will come in over time.
Also, I remember Angela's first class. She had been a bit resistant to trying, but I finally convinced her to do the Women's Group. She really liked it. It's been great to see her go from that resistance and hesitation to now her being a key motivator for me. She's also gone from the Women's Group to the Co-ed classes. She's come to like being more challenged, especially after achieving such great results.
Can you tell us about your overall experience with DSC, our workouts and coaches? How is it different from past workout experiences?
Angela: My overall experience with DSC has been outstanding!
The facilities are great. I feel incredibly safe coming in, due to the exceptional measures that are taken to clean and sanitize. The coaches are great. They are all friendly, helpful and encouraging. The workouts are diverse and fun. I enjoy using all of the equipment. The nutrition program is also awesome. I did the short program offered in the spring when the gym was closed, and it played an integral part in my weight loss.
It is different from past workout experiences because I don't have to think. I can just come in, and the workout is ready for me. Also, the workouts are diverse. Every day is different, so I never get bored. Additionally, it helps to have coaches and other members pushing you to succeed and supporting you.
RJ: The workouts are amazing! And the coaches are not only great coaches, but great people. They are extremely personable and able to adapt to your personality. Angela is introverted and a bit more serious and I like to be goofy. The coaches are amazing at adapting to your personality and giving you encouragement in a way that fits your personality. It's the reason I was so comfortable pushing Angela to give it a try. She's the opposite personality of the stereotypical gym-rat, but I know she'd be hooked if she gave it a shot.
Can you share your overall results?
Angela: So far, I have lost 20 pounds and I am down two sizes!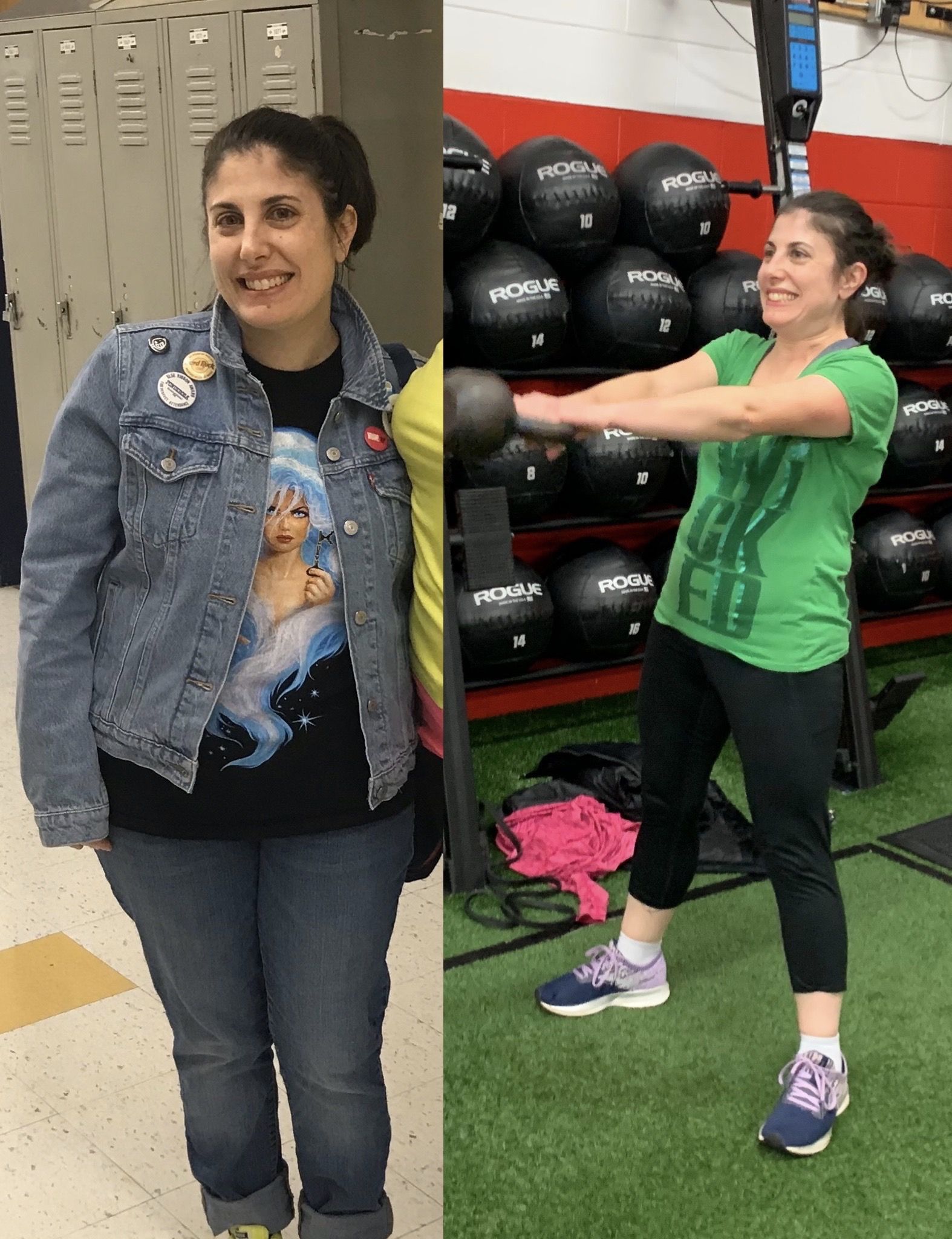 I feel stronger and more confident about the way I look. My joint and back pain has significantly decreased. I also injured my shoulder (not at DSC) right after I started, and I had to modify some of the exercises to accommodate it. Over time, my shoulder got stronger, and now the injury is completely gone.
RJ: I have lost 40 pounds and got to my goal weight!
Pretty much all my clothes are super baggy now. After losing all that weight, I entered an interesting phase I hadn't been to before, where I was good with my weight, but wanted to work on strength. I've put on a few pounds since then, but also upped my kettle bell exercises from 24kg to 36kg so I'm convinced I'm putting on a lot of muscle and that accounts for the small weight gain. I was goofing around with my kids and flexed in the mirror to "take them to the gun show". I actually startled myself in the amount of muscle definition I had. Angela was watching the entire thing and started laughing because of how genuinely surprised I was at the sight of my delicious muscles.
What's your favorite part of DSC and favorite part of the workouts?
Angela: My favorite parts of DSC are the convenience and the coaches. There are so many different workout times available, you are bound to find one that fits your schedule. The coaches are amazingly helpful and encouraging.
RJ: The best part of DSC is the environment for sure. DSC has created a fun place to be able to go and get in a high-quality workout. Knowing that the workout starts and ends at a specific time is also motivating to get there and get the workout in every day. Something about those go-when-you-want gyms that make it so I never go. I also highly recommend the nutrition program as well since that alone accounts for at least 30 of the 40lbs I lost.
Can you summarize the impact DSC has had on you in 1-2 sentences and what keeps you coming back?
Angela: DSC has given me my health back!
As a 43-year-old mother of two, I am in better shape than I have ever been in my life. I will keep coming back so I can be strong and healthy for my kids!
RJ: DSC has refocused my life! Not only am I in better shape, but so it Angela.
What advice would you give to someone thinking of joining DSC?
Angela: You should definitely join. Go to one class and you will be hooked!
RJ: Just go! Talk to the coaches to help clarify your goals and your best path to achieve those goals.


Our 30-Day Winter Health Challenge starts Nov. 23rd!
Register before November 13th and SAVE 10%!
Our 30-Day Winter Health Challenge includes:



✔️ Unlimited workouts (online from home or at DSC) (perfect for all levels)
✔️ Healthy-eating nutrition plan
✔️ Weekly coaching and tips to boost your health and immune system
✔️ Support and guidance
✔️ Results
This program is 100% dedicated to helping you jumpstart your health this winter!
Click below to register! ⬇️ Only 20 spots available!