How Jenn Lost 25lbs From Home!
Before joining DSC's Online Program, my workout routine did not exist.
I would join different gyms and end up never going. I am not someone who can just go to a gym and make my own workout.
I would walk on the treadmill for half an hour and call it a day. I did not know what to do for weights and never really saw any real results (except when I was an in-house member at DSC before I had my son!).
Since having my son four years ago, I have been looking for a gym that came even semi-close to DSC, but the vibe just wasn't there. I moved away from the Nashua area, so coming to DSC was not an option for me.
Once quarantine hit, I found myself gaining more weight and really getting down on myself.
I am a teacher, so I was spending a ton of time on the computer each day, so I started taking a walk each day to clear my brain. But it wasn't enough!
One of my best friends, Michelle, told me she was doing DSC online and I immediately wanted all the information! I did the Memorial Day Live workout and just remembered instantly how much I loved DSC, the coaches, and the workouts!
I joined with the goals to lose a large amount of weight and really get my workout routine back into my life!
This was my first home online workout program, so my worry was I would get bored working out alone and give up. After having my son, finding time to get to the gym and having someone to watch him while I went was a huge reason it just never happened.
Working out at home is so much easier for me. My son, who is four years old, also sees me working out and wants to join me. That is what I love the most! I want him to see his mom staying healthy and working hard.
The biggest thing I love about the DSC Strong workouts is that they have the modified section. I love that I can switch between them also.
Some days I just need to take it easy and it still kicks my butt! I also have found that the first few workouts were tough and I was really sore, but you have to keep going. My soreness felt better after working out again, which made me want to continue. It also got easier! I love seeing the change in difficulty!
I love the new online version of food tracking! DSC's Nutrition Coaches have set up a quick and easy way to track your weight, activity, and food! I have been focusing on the activity and weight, so my next goal, now that I have been getting the activity in, is to get focused on my food tracking. Tracking my activity has helped me motivate myself to keep doing it. Ashley checks in with me also, which is a great motivation. Once I get started with the food tracking, she will be able to help me by making suggestions of things to change or increase/decrease to help me lose more weight.
Since starting DSC's Online Challenge, I have lost about 25 pounds!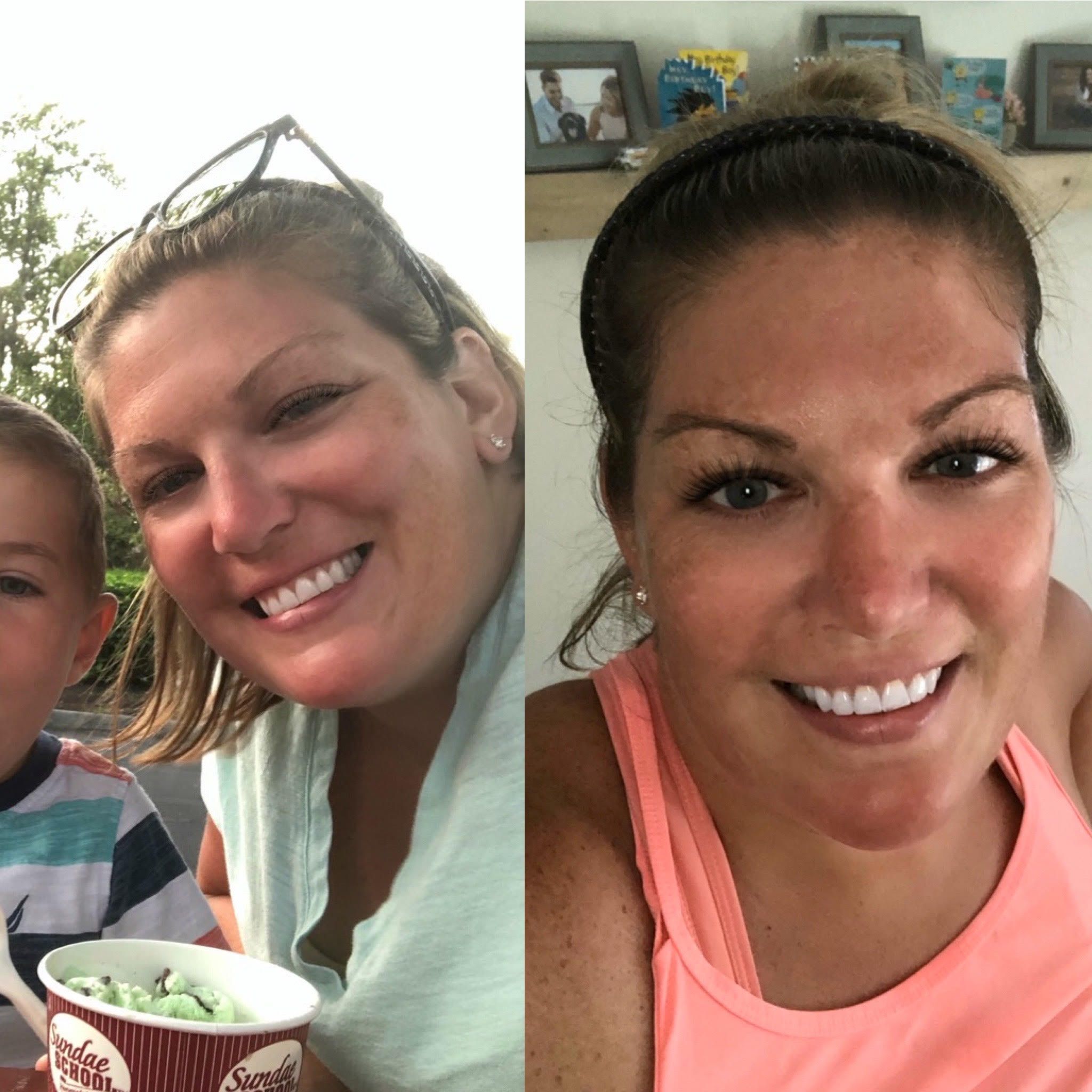 It has improved my attitude, mood, and self-confidence a ton!
My clothes are loose and fitting better, which is a huge victory for me.
I have seen my motivation increase a ton. I am getting up at 4:15am 3-4 times a week to get my workout in before work because once I get home from school I am exhausted.
I have tried to start a morning workout routine for years but just could not get myself out of bed. The fact that this is happening at 4:15 am is completely insane to me! I am so proud of myself!
My favorite parts of the online program are that the workouts are always different! It is not the same thing every time. I love that the circuits are set-up differently and do not include a bunch of different equipment, mostly because I do not have a ton of room to store things. I have one kettlebell and one weight and have never needed more than that! I love the challenges at the end also!
The way I felt after I worked out kept me motivated and consistent. Also, seeing the improvements in my mood. Quarantine was really hard. I was teaching with a four-year-old at home and found myself just in a bad place due to stress, the unknown, remote teaching while also trying to teach a four-year-old since his school was closed, etc. I looked forward to my workout time and found I was a totally different person after I got it done! It is so weird to say this, but I keep telling myself that although quarantine was awful, this is the best thing that happened to me because I've started to get myself back!
I have to thank DSC for that! My son asking me when we are doing our workout was a huge boost too!
Thinking of joining? Do it! Try one of the free workouts online! It is really great and start with the modified version and work your way up. There is no shame in doing the modified. It will still kick your butt! If you have questions, reach out to Matt, Ashley, or any of the coaches! They will help you! There is a great online community as well! Join the Fam!
- Jenn
Ready to get into the BEST shape of your life, right from home?
Join our 8-Week At-Home Challenge starting Monday!
This program includes:
Daily Home Workouts (perfect for all levels)

Easy to Follow Diet Guide

Weekly Fat-Loss Meal Plans

Support and Coaching on How to be Successful From Home
Click below to reserve your spot! ⬇️