How Jen Lost 33lbs and Has Never Felt Better!
I joined DSC because my previous gym closed down. I was making headway with my level of physical activity at that gym, so I didn't want that to end, but I knew I needed a group atmosphere because that's what was working for me.
I hated working out on my own and never saw any progress when I just did regular cardio on a machine; I didn't have the motivation to be consistent. I also never cared to know anything about proper nutrition and how to fuel my body to get the most out of my workouts.
Before joining DSC, I was always struggling to feel good while working out or when taking long walks or trying to be active with my family on the beach or when visiting the city, etc. Anytime I needed to walk for longer than an hour or so, I would get exhausted and my back would hurt.
While I always had very encouraging family and friends, I always wanted to lose the weight I put on in my 20's and early 30's.
I have two adorable nieces who, from the day my oldest niece could walk, has kept us on our toes and has had so much energy. I wanted so badly to be active with them and not get tired so quickly when they wanted me to keep playing and running around with them.
When I saw a friend of mine had lost so much weight at DSC and her story was being shared on their website, I became curious to know what this place was like. I hoped I would find a supportive, motivating atmosphere with nice and approachable coaches, and that's exactly what happened.
To be honest, I never had any notable goals when it came to my fitness and nutrition, but DSC helped me form those goals as I went along. For example, I just thought I would stay in the women's class forever, but Matt helped me form a new goal almost 3 months in. He kept saying I could do it, and so I made it my goal for the new year (I started three years ago in August), and joined Adult Co-ed in that January.
Like most people, my goal coming in was to lose weight, and it was the most natural thing that started happening almost immediately. Before, with "diets" and other gyms, I would lose some weight but never really go down in clothing sizes or keep the weight off. This time, I just kept losing gradually and dropping sizes gradually and over time it staying off!
The next goal was set by the whole DSC team - Spartan Fenway! I would never have thought in a million years I would do something like that. I kept avoiding registering because I was too nervous. I kept hearing from everyone that I could do it. If I could keep up at DSC, I can do the Spartan Fenway.
Well, next goal met! It was amazing. The community at DSC inspires you to keep setting new goals.
Of course I had fears when joining, just like many people. Yet those fears only lasted one class, not even. Coach Renee and Coach Matt were there my for first class and I felt welcomed from the get go, and now for the last 3 years, I have felt part of a special family. You can't feel fear when you're with family.
My experience over the last 3 years at DSC has been far superior to any other gym experience. When you're in a community atmosphere like the one here, you have no choice but to meet people and make friends. I have new lifelong friendships because of my time here!
The main reason for my success there is the constant support of the coaches and DSC members. More recently, it's been the extra pushes and forced "swapping out of weights" that have propelled me even further.
When your coaches have gone the extra mile to gain your trust and respect, you don't argue when they drop a heavier weight in front of you. You start to believe you can do it because they already know you can do it.
I finally joined the Nutrition Program because I was turning 40 this year. It was my birthday goal. The timing wasn't exactly ideal due to COVID delaying it's start date, but I went with it.
Almost immediately, I gained an enormous amount of energy! It was also summer time which is not as busy for me, so it allowed for a lot of time to learn the program, plan my meals well, and work out more. All of these combined helped me reach another milestone of losing a 4th pant size, bringing me from a size 14 when I started at DSC to a size 6 this summer.
Turning 40, I feel the BEST I have ever felt!
Since joining DSC, I have lost 33lbs and have an incredible amount of energy and strength compared to my younger years!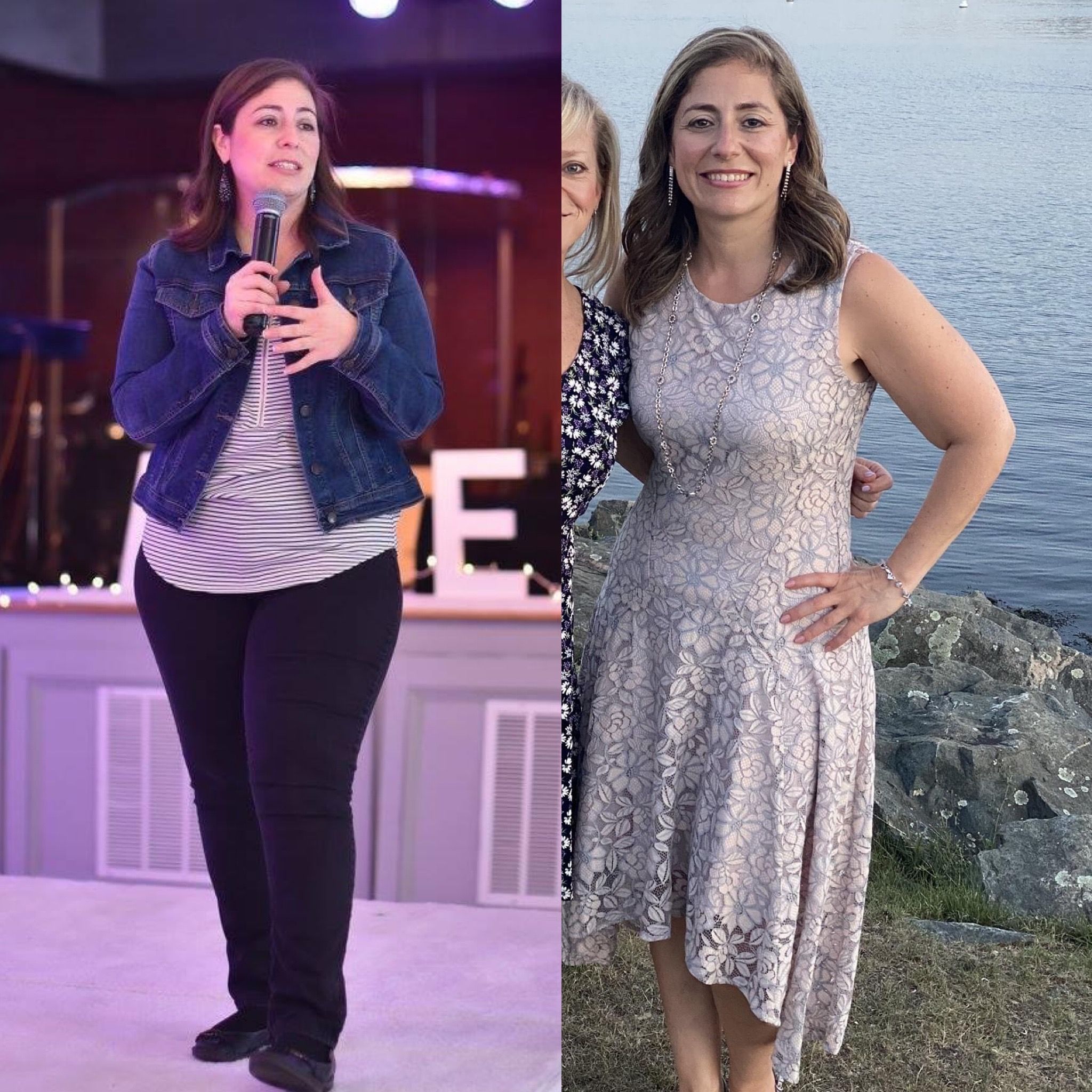 I've gone from a size 14 to a size 6!
I am doing things I haven't done since high school. The last few weekends, I have hiked between 4-6 miles working my way up to an 8-mile hike next week. I have done 2 Fenway Spartan races, tried kickboxing, and I shock friends and co-workers with how strong I've become when it's time to move something or lift/carry something.
I'm beyond grateful for this place, and can't imagine being at any other gym.
My favorite part of DSC is the FUN you have while working out!
DSC has changed my life!
What keeps me coming back is the energy and support of everyone there! The team inspires me in all areas of my life, not just physically. Everyone there makes you want to be a better person for the pure joy of it and of inspiring others!
Thinking about joining DSC? Don't think twice! Just go for it, and you will surprise yourself! I promise!
- Jen
Ready to get started at DSC?
You can now try DSC FREE for 14-days!
Our FREE 14-day trial includes:
Unlimited workouts (here at DSC or online)

Diet starter kit (grocery list, diet guide, and meal plans!)
This offer ends 10/31!
Click below to get your 14-day trial started!