How one couple transformed their health with our Nutrition Coaching Program
Meet Julia and Chris!
Julia:
I had joined DSC 3 months before starting the program and had seen immediate results but had hit a plateau.
I was a year out from my third baby and felt like I was hanging on to those stubborn last 5 pounds.
We ate healthy but also lived by the "everything in moderation" lifestyle and didn't fuel myself for work outs at all.
I always avoided dieting or fad diets but figured eat less calories, work out more, and the weight would come off.
Chris:
I was a chronic meal skipper.
I would often not eat breakfast and even lunch and most of my calories came from dinner or a few snacks throughout the day.
To be honest, all calorie intake before a big dinner was typically from multiple coffees with cream and sugar.
I was tired all the time and had not had the energy to work out in a few years.
I ended up joining DSC just a few weeks before the program started. My main goal was to get into shape and get my energy back.
Julia:
Chris and I were gym rats at a gym in Nashua before we had kids.
Obviously our priorities shifted and it took a while for them to shift back.
I joined a small gym in our current town shortly after my second baby in 2014 and met my good friend Jen.
It felt good to be back into a daily routine but a lot of the aerobics style work outs were not my favorite.
I managed to stay active there during my third pregnancy but was becoming increasingly bored with the same routine and the baby weight was not coming off.
I was also lacking the motivation to go every day.
Jen and I both felt it was time for a change and after trying a couple of classes at DSC a few years ago, we knew that's where we wanted to be.
As soon as we came for our first class we were hooked and never looked back.
I was so excited to set my alarm for 4:30 every morning and was addicted to seeing the changes in my body over the first several weeks.
Chris:
I had not had a workout routine in about 6 years.
I ended up going back to school to get my MBA while working full time which left no time for exercise.
My lifestyle left me with a lack of energy and very poor eating habits.
After I was able to attend a few of the holiday classes at DSC, I experienced what a challenge the workouts are but also the great atmosphere the members offered.
After a lot of pushing from Julia and her promising that I would become quickly addicted to the DSC program, I decided to join this past Christmas.
After the first few weeks adapting to the new schedule and the longer hours away from the house, I absolutely started looking forward to working out every day.
Julia:
I went into the Nutrition Program with a lot of apprehension.
I owe Jen for pushing me into giving it a try.
I often had an unhealthy relationship with calorie counting and worried it would be the same. I thought it would make me too obsessive and not be sustainable.
I was completely wrong.
It was all about balancing your diet and learning the right ratios.
I found I was under eating protein and never meeting my body's calorie needs. I was so used to watching my calories and never ate enough actually. I had never eaten so much in my life once starting the program.
I was never hungry or feeling deprived.
Eating whole foods and learning how to fuel my workouts made an immediate difference.
I loved meal prepping on the weekend which had a big impact on our mornings and made preparing a dinner for our family of 5 so much easier.
We stopped eating out as much and just felt better all around.
I never felt obsessive, only accountable for my choices.
Chris:
After the first week learning the basics to good nutrition I found that I needed to eat more food than I had in years.
At first I had to force myself to eat in the morning which had always been a struggle for me.
My stomach was never able to eat first thing in the morning.
After a few weeks of adjustment though I found I was actually becoming hungry at all the right times, including the mornings.
I also started feeling more energy which made a huge impact on my workouts.
I also had the benefit of Julia doing all of the meal prep work, which means I primarily got to eat, work out and see results! Thank you Julia!!
I had used My Fitness Pal in the past but only as a way to try and lose weight by counting calories.
I had always thought eating less and working out more would be the best way to lose body fat. Man was I wrong.
Julia:
Both of us doing the program at the same time made all the difference in the world.
We were able to support each other, help plan appropriate meals and motivate each other.
We do not work out together as I wake up early to get in a work out and he goes after work.
The only reason we are able to get workouts in 5-6 days a week is by supporting the other person by holding down the fort.
We have three kids and both work full time.
When I get home from my 5 am class he always has breakfast ready for me and I have a healthy dinner for him when he gets home.
I feel like it even renewed a love I had lost for cooking and preparing foods.
We have also had the added benefit of our kids starting to eat healthier foods they once wouldn't touch.
For me, within a few weeks of starting I started to notice my clothes were fitting better.
I was eating more, snacking on healthy foods throughout the day which I rarely did previously. My workouts got kicked up a notch and I was increasing weights and really pushing harder.
I couldn't stand missing even a day.
We do not own a scale (back to that previous obsessive thing) but could feel a difference.
It was when Chris made a comment about changes he had noticed in me that the results really started to feel real.
Having the added motivation with Jen working out and sharing recipes with each other also helped to make the program a success.
Chris:
The program was an eye opener for me.
I realized just how poor my nutrition was.
Leaning to properly balance my macros and eat healthier foods allowed me to eat way more than I ever have.
I was waking up very hungry, eating every few hours and drinking a ton of water.
After a while I started to notice differences in my energy levels, but also my clothes started to seem bigger.
In fact, clothes I had just bought a few months earlier were now too big! As I noticed the little changes, it absolutely motivated me to keep going with the program and not slack off.
I couldn't be happier with the results achieved in such a short time.
Results:
Julia: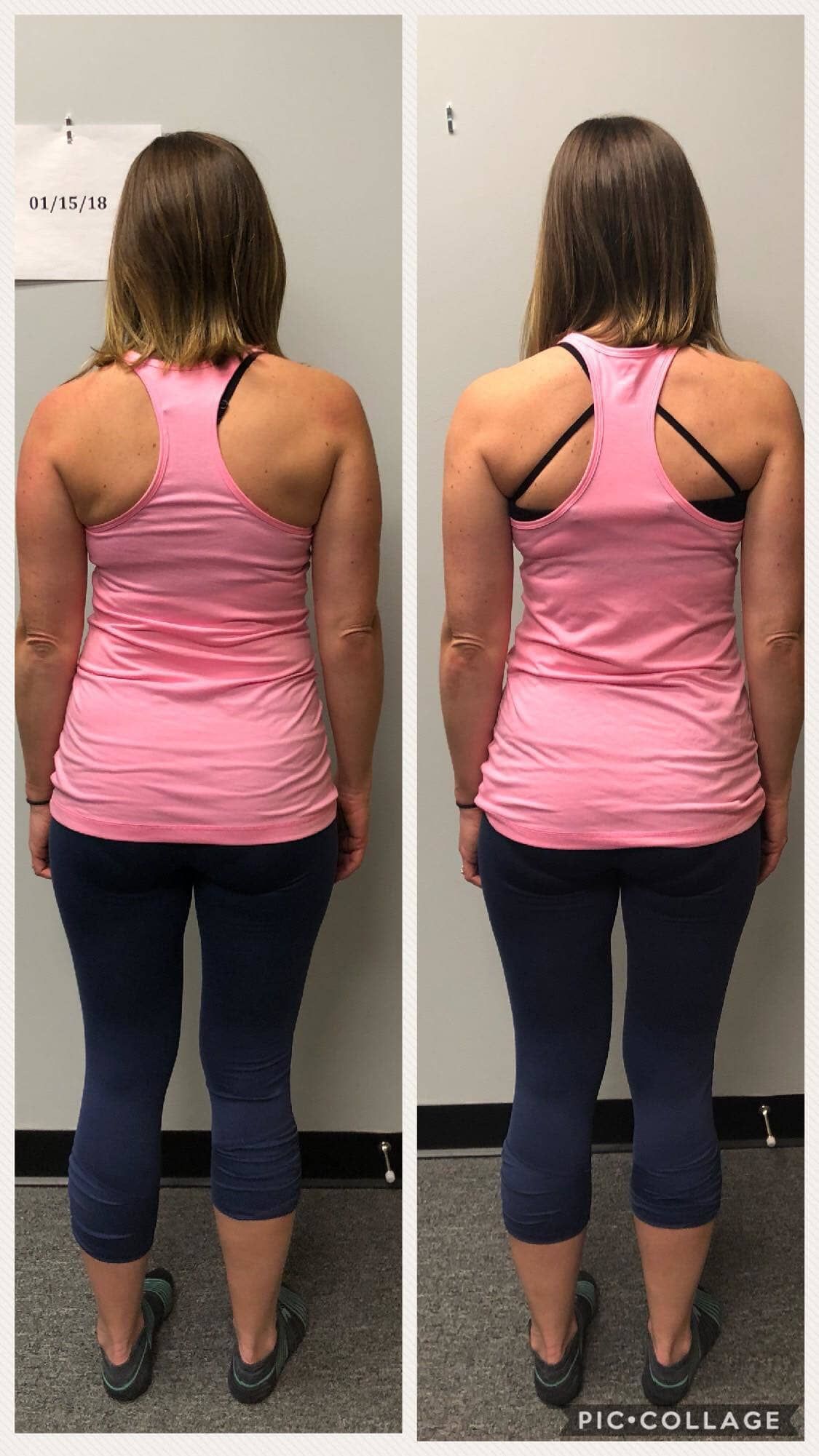 I lost nearly 9 lbs and gained 2 lbs of muscle!
My body fat percentage dropped 5.5% and I lost over an inch in my hips, waist and thighs.
I'm below my pre pregnancy weight and wearing a size I haven't worn since before kids. I have never felt better.
I feel stronger and better than I have in years, maybe ever. Both physically and mentally too.
Chris: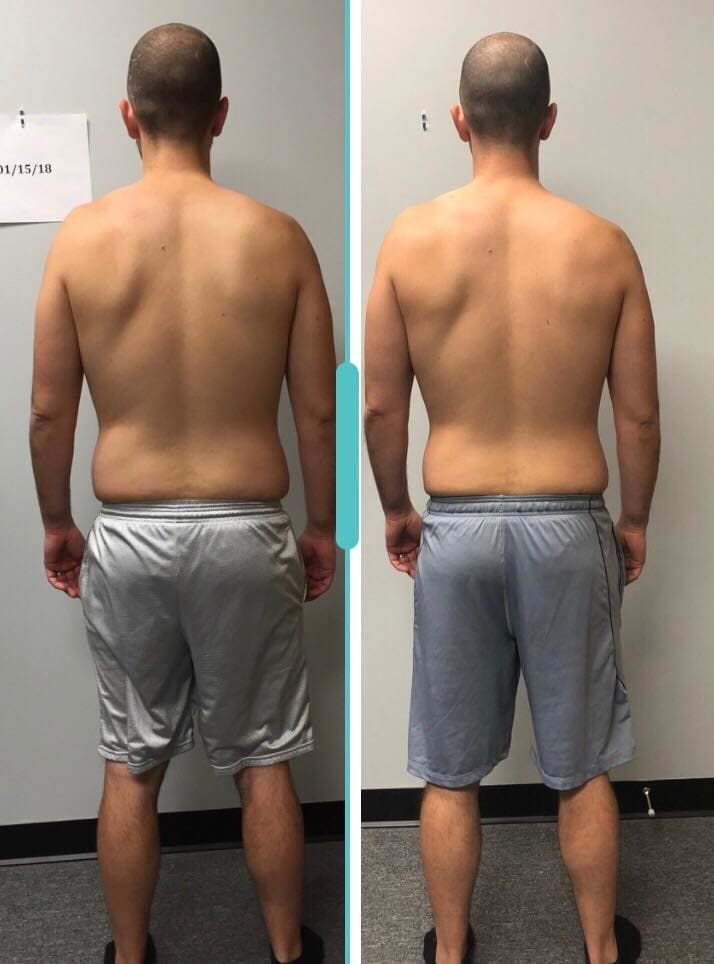 I lost 9 pounds and gained almost 3 pounds of muscle.
I decreased my body fat % by 4.5%, going from high body fat to good. I also lost 2.5 inches off my waist in just 8 weeks. All while working out and eating MORE.
Julia:
The biggest impact for me was eating more and not focusing on "starving" my body of calories in order to lose weight.
Learning the right balance of macros and how to appropriately fuel for workouts really made a big difference. It was strange getting used to eating so much at first but the results and energy it provided were obvious.
Chris:
The biggest impact for me was eating all 3 meals and snacking throughout the day.
It was a challenge at first but it changed so much in a short period. I gained so much more energy which was paying off at the gym.
Workouts that had been so hard just a few weeks prior were getting "easier" to complete and I definitely felt like I was getting stronger.
Julia:
Thinking of joining?
Hurry!!
Making these changes are so completely worth it.
Even if you eat a healthy diet like we did, there is so much the program can offer you.
Learning the right balance for you, meal planning, the accountability you get from other members and the feedback from the coaches are huge benefits.
Run, don't walk. I can't wait to start the next program!
- Julia & Chris
It's time to look and feel your best!
Just in time to get ready for summer! 😎
Register for our May 1st Nutrition Coaching Program and save 15%!
[click below for more information]