How Rich Dropped 25lbs with DSC's Nutrition Coaching Program!
Before DSC's Nutrition Coaching Program my nutritional habits were plain horrible.
I was taking in somedays 6000 calories or more and not working out.
I had little to no direction and became very discouraged.
Then I heard about DSC's Nutrition Coaching Program and joined immediately.
My goals coming into the nutrition program were the following:
1. Lose 10-15 lbs
2. Lower my blood pressure
3. Lose 1-2" off my waist
4. Decrease body fat by 2%
My biggest problem coming into the program was that I had no direction or self control with my eating.
I needed education and accountability.
On top of that I was ready to get into a consistent workout routine.
Through this program I was able to get pointed in the right direction.
I was taught how to make good food choices and taught it was ok if I made a bad one here or there. That's the reality of life.
If I did make a bad choice however, I was able to realize it and then get right back on track vs quitting all together.
There was a ton of support between the coaches and members which helped a lot.
The nutrition program along with the workouts has made me feel 120% better about myself.
After every workout I feel better and better.
The first few weeks were really a test of my abilities but I was able to get through it with the help of other members and the coaches.
Now after 3 months it has become part of my daily life and has become routine.
The workouts are awesome and I continue to improve and test myself. One of the big things I learned through the nutrition program was how important pre and post workout nutrition is.
As far as results I was very happy and impressed when I found out my post-testing numbers.
I crushed my goals that I had coming into the program!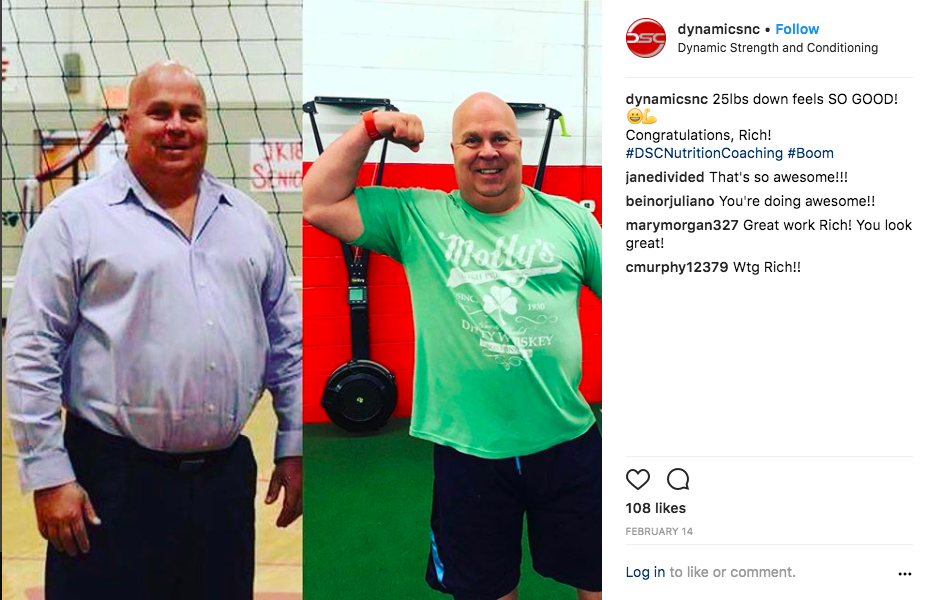 I am down 25lbs, 5.5% body-fat and have take 4.5 inches off my waist!
My blood pressure has also dropped dramatically!
My resting heart rate went from being in the 80s to 60bpm which is a great sign of heart health!
I have also gone down from a size 42 pant to a size 38!
The biggest thing for me that led to my results was the accountability and the support from the coaches.
They really gave me the tools to go in the right direction.
It was up to me to succeed. I also realized this was seriously a lifestyle change not a quick-fix diet.
If you are thinking of joining, I would say, just do it!
It is up to you and no one can make the choices or changes for you.
Yes, you are going to hit some bumps along the way but that is life.
How are you going to know unless you try?
Put your mind to it and anything is possible, so choose the path YOU want to be on!
- Rich
Ready to look and feel your best?
Ready to clear the confusion around what you should be eating?
Ready for the body you deserve?
Reserve your spot for our Spring Nutrition Coaching Program below [space is limited!]